Ask
for
Quote
Auto Rickshaw Advertisement - Widest OOH Media For Your Target Audience
OOH Ads
In the pool of 'Out of Home Advertisement', we have invented a brand new advertising medium i.e. Auto Rickshaw.
AUTO ADVERTISEMENT is highly economical when compared to other boasted media and hoardings at prime locations. Delivering your message to people at their place.
Isn't it good !!
Prints/Posters
Newspaper
Billboards
Radio
Commercials
TV Commercials
Flash Mobs
Hoardings
Wallscapes
Events
Vehicle
Wraps
Banners
Others
Direct
Marketing
Bulletins
Word Of Mouth
Ad Balloons
Referrals
Internet Ads
Products
Providing 3 different sets of advertising media on Auto Rickshaw:
1. with LED Backlit
2. without LED Backlit
3. Flex based medium.
Branded Auto Rickshaws
with LED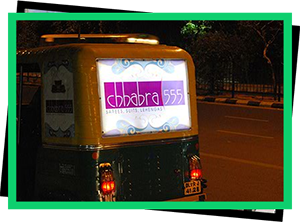 without LED
Flex
Team
Abhimanyu
Singh
Business
Abhimanyu Singh is the founder of Auto Advertisement and directly responsible for innovations, strategic direction, management, business development, and marketing & promotions
Abhi has over 5 years experience in 'Advertising Industry' and always open to new technologies & innovations.
Suraj
Singh
Technology
Suraj Singh is the technical head at Auto Advertisement and is currently responsible for managing all front / back-end development.
Suraj sets a high bar for quality and efficiency. With over 4 years of experience in the field, he has excellent expertise in media industry and Out of Home advertisement
Raunan
Singh
Creative
Raunan Singh is the creative director of Auto Advertisement and is currently responsible for creative direction, art direction, user experience, and quality assurance.
Raunan has over 3 years experience in Automobile Industry and Networking. Superior communication skills and motivational way of leading life are his qualities.
Sonu
Prajapati
Marketing
Sonu Prajapati is the marketing head at Auto Advertisement division. He is currently responsible for Social Media Marketing and Digital Promotions
He is a Web Master and thus holds a premium tools and techniques for quality advertisement and reach amongst new sectors.
Apply
for Job
Sales
This could be you !!
Send your CV to abhi@autoadvertisement.in
Compare
Auto Rickshaw Visibility
Hoarding Visibility
Auto Rickshaws Vs. Hoardings
20,000
15,000
10,000
5,000
500
1 AM
7 AM
1 PM
7 PM
12 AM
Views Per Auto Per Month
800,000
600,000
400,000
200,000
500
Auto Rickshaw Advertising Network
Clients
Being the largest Auto Rickshaw Advertising Agency in India, we have a rich clientele. Have a look at our decent list
with LED
with LED
without LED
Flex Based
Contact
Thanks for checking out Auto Advertisement !
We would love to meet you in personal for enormous advertising ideas.
Cheers
Team Auto Advertisement
Call us for a quick quotation
Call
Email
abhi@autoadvertisement.in
Products
3 Options
With LED Backlit: Specially Modified Auto Rickshaw Hoods for Advertisement Display, which even gets lit at night
Without LED Backlit: Specially Modified Auto Rickshaw Hoods for Advertisement Display
Flex Based: Complete new hood wrap for displaying advertisement on 3 sides
Advertising Area
3 Side External Branding consisting 12 sq. ft. as total advertising area.
Back: 3' x 2'
Each Side: 2' x 1.5'
Printing: Eco Solvent/Vinyl Solvent
Franchise
Contact
Abhimanyu Singh, 95999 46401
abhi@autoadvertisement.in